Best Shower Light With Bluetooth Speaker
Bluetooth speakers have changed how we listen to music. No more wires or big systems. Now, you get clear, loud music from a small box that you can take anywhere.
People love them because they connect easily to phones or computers. With a good charge, they play for many hours. And the sound? It's good, very good.
It comes with controls for play, pause, volume, and even to answer phone calls. So, you're not just getting a music player; it's more than that.
What if you can listen to your favorite songs while taking a shower and have good lighting too? That's where the Shower Light With Bluetooth Speaker comes in. It's a two-in-one thing.
You fix it in your shower, and it gives you light and music. No need to worry about water; it's made to be safe for shower use.
It's like having a mini-concert every time you wash up. Cool, right?
1. Broan-NuTone SPK110RGBL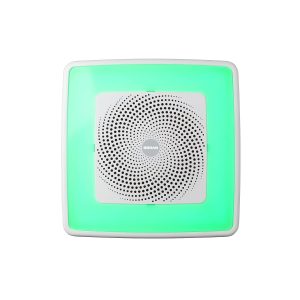 Broan-NuTone's SPK110RGBL is not just an exhaust fan; it's a game-changer for bathroom ambience. With its Chroma Sensonic design, this product offers you a spectrum of 24-color LED lights, ensuring your bathroom never looks dull.
The Bluetooth speaker ensures you groove to crisp, bold sounds every time you're in there. Operating at a very silent 1.5 sones, it delivers powerful performance without noisy interruptions.
Even better, you don't need to be a tech wizard for installation – it's a breeze with the EZDUCT connector.
You don't even need attic access! And if you're worried about connectivity, the factory set PIN is just '1234'. But take note: the app isn't compatible with Samsung Galaxy S21 or Google Pixel 6.
Pros:
24-color LED light to set the mood.
High-quality Sensonic Bluetooth speaker.
Ultra-quiet performance at 1.5 sones.
Simple and quick installation with the EZDUCT connector.
Cons:
App not compatible with certain smartphones.
Batteries for wireless wall control are not included.
---
2. ASALL Smart Waterproof LED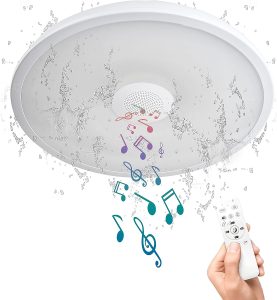 ASALL's Waterproof LED is more than just a ceiling light; it's a blend of technology and modern aesthetics. Made with plastic, PS, and Acrylonitrile Butadiene Styrene, this modern-style lamp boasts an IP44 waterproof rating. This means it's safe from water splashes, perfect for a bathroom setting. With its Bluetooth Speaker, you can connect your mobile and enjoy your favorite tunes. The 2.4G remote control gives you power over brightness, RGB effects, and even the rhythm mode. The dimming effect is commendable, providing you with a range of lighting from warm to cold white light. And if you're keen on setting a party mood at home, the rhythmic color-changing lighting will not disappoint.
Pros:
IP44 waterproof and dustproof.
Versatile lighting with dimming effects and RGB modes.
Quality Bluetooth speaker with rhythm lighting.
Dual-use design: Ceiling lamp or socket chandelier.
Cons:
Pendant chain not included for chandelier setup.
Requires ceiling circuit line connection.
---
3. HOREVO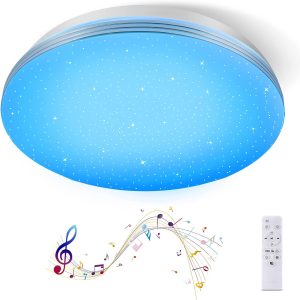 HOREVO's 30CM-silver ceiling light might look ordinary, but it's packed with features. This modern-styled ceiling light is dimmable, offering three types of daily lighting. Whether you want warm, neutral, or cool white, it has you covered. The built-in Bluetooth speaker lets you connect your phone to play music or stories, ensuring entertainment is always close. Despite its compact size, the brightness doesn't disappoint. It's also energy-efficient, saving you significantly on your electricity bills. Suitable for various areas in your home, this light can be a great addition to kitchens, bathrooms, hallways, and more.
Pros:
Three types of adjustable daily lighting.
Efficient energy consumption.
Built-in Bluetooth speaker for entertainment.
Bright light for all your spaces.
Cons:
Lights and Bluetooth need power to operate separately.
The specific design might not appeal to everyone.
---
4. WZTO 36W LED Music Ceiling Light with Bluetooth Speaker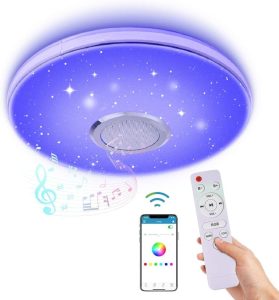 WZTO brings to you a 36W LED ceiling light that is bound to elevate your room's vibe. This light isn't just about illumination; it's about experience. With its built-in Bluetooth speaker, you can connect multiple phones and play your cherished music. The light dances to the tunes, creating a mini-concert in your space. The remote control is a bonus, letting you adjust brightness, color temperature, and even set timer functions. If you have kids, the eye protection mode ensures their eyes remain safe from glares. Overall, it's not just a ceiling light; it's a package of fun, safety, and functionality.
Pros:
Built-in Bluetooth speaker for a lively ambiance.
Multiple lighting modes with remote control.
Timer function for automatic on/off.
Eye protection mode for safety.
Cons:
The remote control and manual are inside the lamp body, which can be confusing.
Does not support Alexa for light control.
---
In the End
Key Takeaways:
The Broan-NuTone SPK110RGBL thrives in its multifunctionality, making your bathroom both an auditory and visual retreat.
ASALL's Smart Waterproof LED is the embodiment of versatility, suitable for those who desire both aesthetics and high-tech functionalities.
HOREVO is a testament to how compact designs can still offer bright and customizable lighting solutions.
The WZTO 36W LED Music Ceiling Light is more than just a lighting fixture; it's an experience, making every moment in its glow special.
Each product brings its unique blend of features, from mood-setting RGB lights to Bluetooth speakers that can transform a room into a musical haven.