Best Smart Locks for Home 2023: Future of Home Safety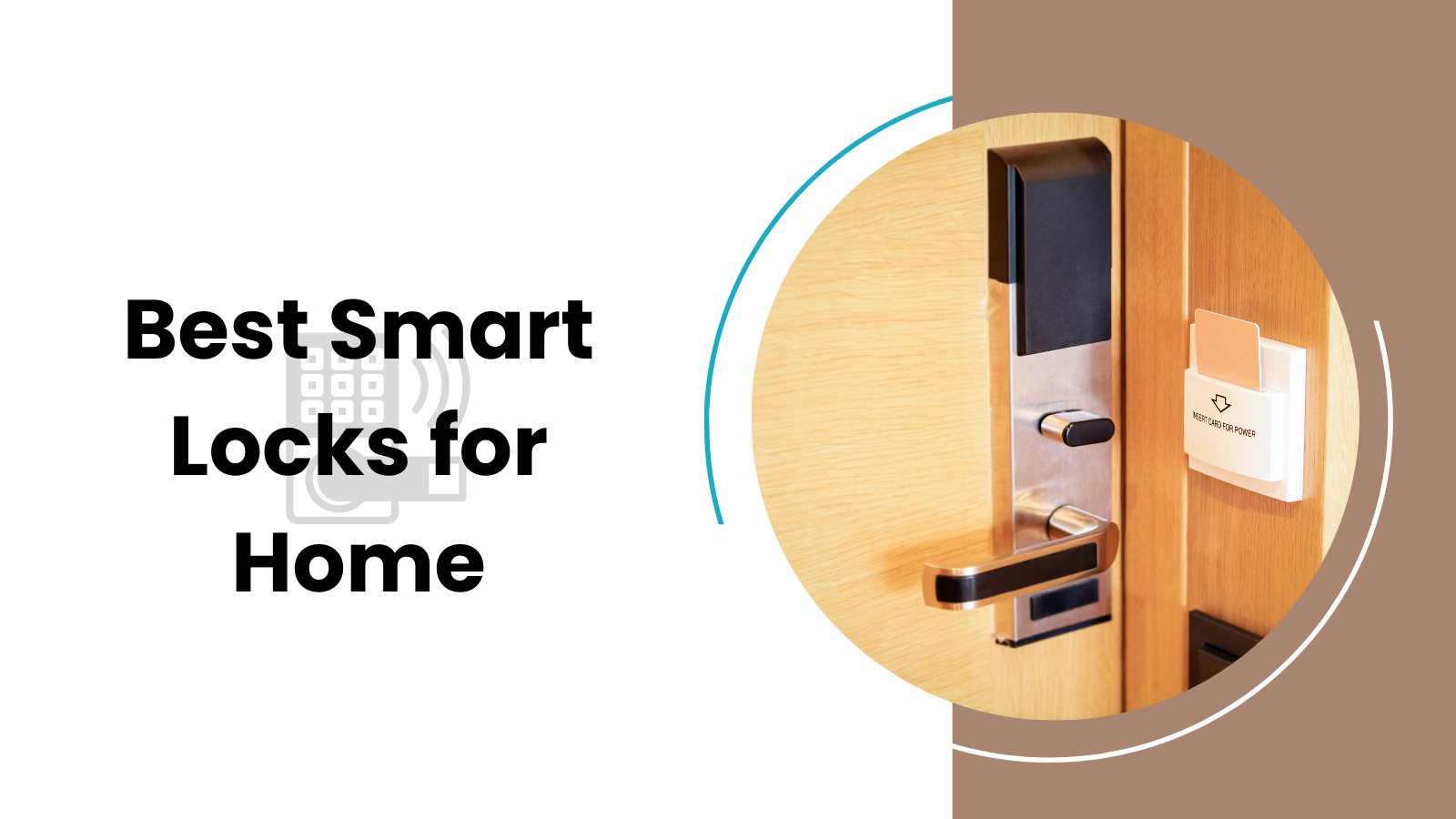 Whether you're away on holiday or just stepping out for groceries, the thought of home security is never far from your mind. Traditional locks can be picked, keys can be lost, and replacements can be costly. Intelligent locks are here to change that narrative.
From using your phone as a key to letting you know who's at the door, these modern locks are redefining how we keep our homes safe.
Having a strong lock on the door is no longer enough; we need something that combines strength with cleverness.
That's where smart locks come in, adding a layer of convenience and security that was unimaginable just a few years ago.
But what makes these locks so special? Let's find out
Are smart locks safe for home?
home security continues to be a top priority, and smart locks are at the forefront of this technological revolution. But a question that often arises is, are smart locks safe for home use?
Pros of using smart lock
2023's smart locks come with enhanced encryption and security protocols, minimizing risks like hacking.
Modern smart locks can connect with other security devices, creating a unified defense against potential intruders.
Grant or revoke access with a touch on your phone, ensuring only trusted individuals have entry.
Receive instant notifications about any suspicious activity, giving you more control over your home's safety.
Cons:
While advancements have been made, no technology is entirely immune to potential vulnerabilities. Regular updates and vigilance are essential.
While many smart locks have backup options, they do rely on power and internet connectivity, which can be a consideration.
---
Best Smart Locks for Home
1. August Smart Lock Pro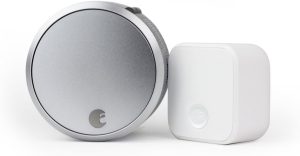 If you're a fan of gadgets that just fit into your daily life, the August Smart Lock Pro might be the perfect choice. Imagine not having to fumble for keys. This lock opens as you approach and locks itself when you leave. If you forget anything, just use your phone to lock or unlock the door from anywhere.
With a bit of set-up time, you have a lock that truly understands your routine.
Features
Remote control via smartphone
Auto-lock and auto-unlock
Works with Alexa, Google Assistant
Integrates with other smart home devices
Pros
Easy to install
Great app interface
Highly secure
Cons
Requires additional hub
Some users find the auto-unlock feature inconsistent
2. Schlage Encode Smart WiFi Deadbolt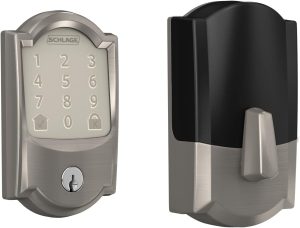 Safety is key, and Schlage Encode brings this right to your door. With a built-in alarm and strong build, it's like having a guard at your door. You can also give unique codes to family and friends and know exactly when they come and go.
It might look a bit big, but that's because it's packed with everything to keep your home safe.
Features:
Built-in Wi-Fi
Keyless entry
Compatible with Amazon Alexa and Google Assistant
Activity history log
Pros:
Strong and durable
Easy to manage multiple users
Built-in alarm
Cons:
Slightly bulky design
No Apple HomeKit support
3. Yale Assure Lock SL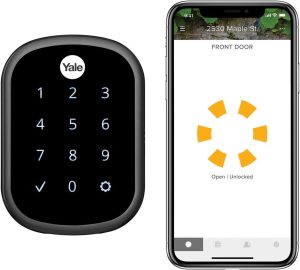 Sleek and stylish, the Yale Assure Lock SL not only looks good but works smartly. If you have other smart devices in your home, this one will fit right in. Touch the keypad to lock it, or use a code. You can even see who comes and goes.
It may need some extras for remote access, but it's worth it for a lock that feels like the future.
Features:
Touchscreen keypad
Integrates with Z-Wave and Zigbee
One-touch locking
Backup battery terminals
Pros:
Attractive, sleek design
Easy to install and use
Works with many smart home systems
Cons:
Expensive add-ons
Requires network module for remote access
4. Kwikset Kevo Smart Lock
For those who like tech but want things simple, Kwikset Kevo is a great pick. Touch the lock, and it opens, or send an electronic key to a friend. You can still use your old keys, too.
To control it from far away, you'll need an extra hub, but it's a small price to pay for a lock that knows when you want to come in.
Features:
Touch-to-open technology
Guest eKeys
Compatible with Amazon Alexa
In-home locking and unlocking from a smartphone
Pros:
Easy to install
Can still use regular keys
Good app interface
Cons:
Requires Kevo Plus hub for remote access
No auto-unlock
5. Ultraloq U-Bolt Pro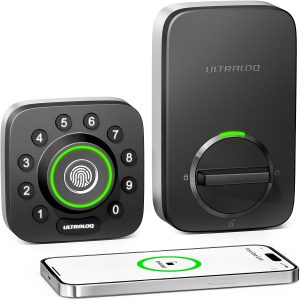 Do you want options? Ultraloq U-Bolt Pro gives you many. Fingerprints, codes, or your phone – you decide. It's strong but won't break the bank. Sometimes, the fingerprint part might be a little tricky, but with so many other ways to get in, it's a small thing for a lock that works so many ways.
Features:
Fingerprint recognition
Anti-peep code
Auto-unlock and lock
Smartphone control
Pros:
Versatile unlocking methods
Strong construction
Affordable
Cons:
Fingerprint reader may be inconsistent
The app interface could be improved
6. Samsung SHS-P718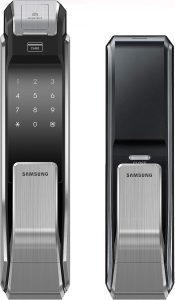 If you want something top-notch, Samsung SHS-P718 is the way to go. It's not just a lock; it's a whole security system in itself. Fingerprints, passwords, alarms – it has it all.
It might cost a bit more and need some work to set up, but it's like having the future of safety right at your doorstep.
Features:
Fingerprint and password
Double authentication
Intrusion alarm
Fire warning
Pros:
Advanced security features
Sleek design
Reliable operation
Cons:
Expensive
May be difficult to install
7. Wyze Lock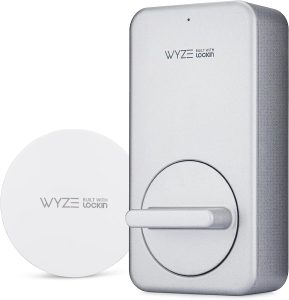 For those on a budget but not willing to compromise on quality, Wyze Lock is the answer. It works with your phone and even tells you if the door is open or closed. It's part of the Wyze family, so if you have other Wyze stuff, it will fit right in.
You might need a little extra gadget for full control, but it's a small thing for a lock that does so much without asking for much.
Features:
Remote control via the Wyze app
Auto-unlock
Door position detection
Integration with other Wyze products
Pros:
Affordable
Simple installation
Great for Wyze ecosystem users
Cons:
Limited smart home integration
Requires Wyze Lock Gateway
---
Final Words
From the sleek design of the Yale Assure Lock SL to the advanced security features of the Samsung SHS-P718, we've explored locks that suit various preferences and budgets.
Whether you're stepping into the world of smart home technology for the first time or looking to upgrade an existing system, there's a smart lock out there for you.